CELEBRATE ST. PATRICK'S DAY IN VEGAS IN 2017!
In celebration of St. Patrick's efforts to convert pagans to Christianity, March 17 came to be known as St. Patrick's Day. The day celebrating the patron saint of Ireland landed stateside in 1737 and has been evolving ever since. Turning from holy to secular, St. Patrick's Day gives everyone a taste of the Emerald Isle, from green beer and shamrocks to leprechauns and blarney. Reconnect with your Irish roots or be an honorary Irishman this St. Patrick's Day, and check out the parties, pubs/restaurants and entertainment for the weekend. Check back often as we are always updating the listings.
ST. PATRICK'S DAY 2017 EVENTS AND PARTIES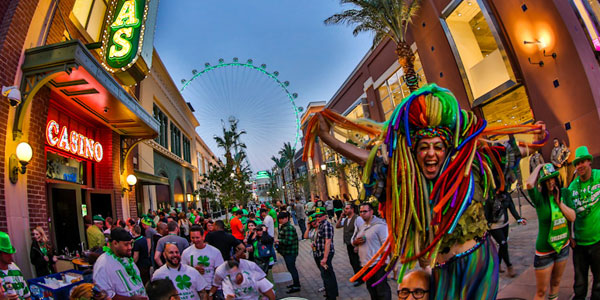 O'Sheas BLOQ Party celebration at the LINQ
No matter how much you've been drinking it's time to follow the rainbow and find the pot of gold at The BLOQ Party at The LINQ Promenade. This is one party that won't stop until you start seeing four leaf clovers everywhere. Kicking off the green beer celebration at noon (that's all that matters right, a refreshing green brew?) there will be a parade down the Promenade with bagpipers, leprechauns, stilt walkers and anything else that screams St. Patrick's Day. If you're not a lucky person, this is your one shot to pick up as many four leaf clovers as possible to cover you for the next year. Bar hop from O'Sheas to Tilted Kilt Pub then Virgil's Real Barbecue, the whole district has specials that no Irish man or woman can pass on. And you know the rest of you of course.
RÍ RÁ Bar at Mandalay Bay
It doesn't get more authentic then live traditional Irish music at Rí Rá Bar. If you're leaning towards wearing a kilt and taking a crack at riverdance, this is the perfect spot to plant your tooshie and drink a good ol' stout. For those of you who actually know more about Ireland than all the myths – famous bands like The Crooked Jacks, The Black Donnellys and Craic Haus will be performing all day. Don't mind us, we already started practicing our Irish step moves.
The Plaza Hotel
It doesn't matter what day it is, if there's a line dancing you can bet on us being in the front, shaking our thangs. The Plaza Hotel is kicking the party up a notch with green fireworks and a conga line through the hotel. Who says you can't have fireworks on St. Patrick's Day? The Irish will be lighting up the sky at 10 p.m., so sip on your beer and watch the fireworks start the night off with a bang.
Fremont Street Experience
No ticket stubs needed for this party. Friday, March 17 starting at noon Fremont Street Experience is bringing all the laddies and lasses together for one crazy party on St. Patrick's Day. The Angry Brians, Darby O'Gill and the Little People, Bogtrotters Union will have you Irish stepping in no time. Grab a few Guinnes and listen to the free live music. Don't forget to wear green though, after a few drinks everyone will want to pinch you till you turn purple. Although it'll make for a great story, no one wants to look like a plumb on Monday.
ST. PATRICK'S DAY 2017 DINING
PUB 365
You may not be able to go to Ireland, but St. Patrick's Day at PUB 365 inside the Tuscany has so many drink specials you're not gonna care. Knock back a Smithwick's Irish Red Ale draft or Guinness draft for $3.65 each. Be sure to check out PUB 365 on both days because Thursday, March 16 from 4 – 6 p.m., you can get a personalized Guinness pint glass and Friday, March 17th you'll be able to dig into corned beef and cabbage and shepherd's pie for $9. It's no pot of gold, but these rewards are just as cool.

Crush
Come try to drink and eat like an Irishman at Crush's third annual St. Patrick's Day bash at MGM Grand. Wallow in traditional grub like Corned Beef, Soda Bread and a Brown Ale Irish Lamb Stew, and wash it all down with beer and Irish whiskey drinks. The party starts at 5 p.m., so be sure to pace yourself. But we won't blame you if you can't keep up.

Nine Fine Irishmen
St. Patrick's Day is on a Friday; why not party on Saturday too? Nine Fine Irishman at New York-New York is doing just that. Ten bucks gets you admission to the two-day party, which includes live music, food and drink specials and a parade throughout the resort. Thank your four-leaf clover because this is one of the best St. Patrick's Day parties in town.
Therapy
As if you needed another reason to celebrate St. Patrick's Day, Therapy is throwing their drink experience into the holiday ring. Their hand crafted Shamrocked cocktail is made with Midori liqueur, Irish whiskey and Irish crème, and comes topped with homemade whipped cream and fresh mint. Therapy also has a Wasatch Apricot beer paired with a shot of Dubliner Irish Whiskey for those with a few more hairs on their chest. Maybe best of all, you can enjoy these drinks for the entire month of March.

Hofbräuhaus Las Vegas
Believe it when we say that you're going to want to party with Germans on St. Patrick's Day. Hofbräuhaus Las Vegas is offering their take on Irish classics like Creamy Leak Soup, Fried brie cheese and corned beef and cabbage. And feel free to celebrate with a little beer pong, shot-ski or a shot paddle. There won't be a St. Patrick's Day party like this in town.
IRISH PUBS IN VEGAS
Vegas is home to multiple Irish pubs where visitors can raise a pint and toast to their Irish heritage, even if it's only imagined as an excuse to grab a Guinness. Regardless of where you're from these laid-back pubs offer a fun, vibrant and friendly atmosphere for enjoying a drinks and hearty meal. Many of them also feature live entertainment. They're good options for celebrating any day of the year, but come St. Patrick's Day these Irish pubs become hotspots for revelers on the hunt for their next shot of Jameson.